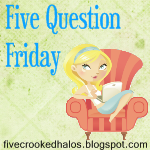 1. What were your school colors?
Black and gold - go Prospectors.


2. What's the best compliment you ever received?
I was thinking about this today and unable to come up with anything, but then I heard some wonderful compliments from one of my coworkers. I will be running a workshop on libraries and social media for the libraries in my county in September and I am a little nervous about it. She helped me feel more confident about it by telling me that whenever I talk in our staff meetings she always feels very comfortable asking questions and for clarification. I really like the confidence my coworkers have in me. I just hope I can talk loud enough at the workshop for people to hear me - or that they have a microphone.


3. Do you buy cheap or expensive toilet paper?
I haven't bought toilet paper in months (my in-laws buy it) but I think I usually buy Charmin. I'm not sure anymore. Definitely not the most expensive or the cheapest at the store.


4. Have you ever had a surprise party thrown for you? Or have you had one for someone else?
I don't think I have ever had a surprise party for myself. It always seemed like it would be terrible to be the person the party was for since you'd spend all day thinking nobody remembered your birthday. I think at times we have thrown a surprise party for my Nana or other relatives.


5. What is one material possession that you "can't live without"?
Definitely my camera.