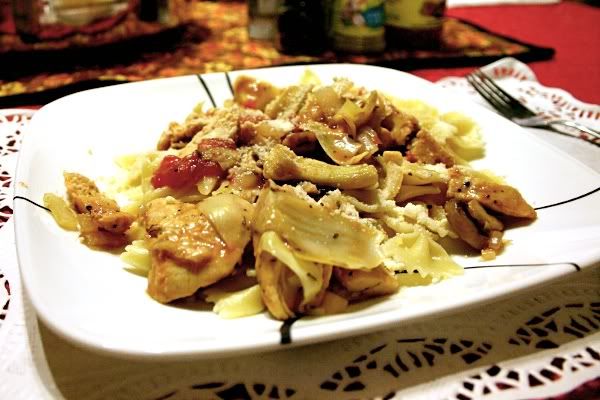 I made this Monday night for dinner. I love artichoke hearts, so it was definitely a winner in my book. This is the way I made it; the original recipe is on
Taste of Home
. It made 4-5 servings.
Chicken and Artichoke Pasta
1 pound uncooked bowtie pasta
1 pound cooked chicken breast strips
Olive oil
1/2 pound sliced fresh mushrooms
1/2 cup sliced onion
2 tablespoons wine
1 (14 1/2 oz.) can diced tomatoes with garlic, undrained
1 (14 oz.) can water-packed quartered artichoke hearts, drained and rinsed
2 teaspoons cornstarch
2 teaspoons cold water
Shredded or shaved Parmesan cheese
Salt
Basil
Other seasonings
Cook pasta according to package directions. While it's cooking, warm up the chicken (microwave or whatever), or, if you just cooked it, keep it warm. Saute the mushrooms and onion with some olive oil until tender. Add the wine and stir it around. Reduce the heat to medium and add the tomatoes, artichokes, chicken, and seasonings (salt, basil and anything else you like). Cook for 4-5 minutes or until heated through.
Combine cornstarch and water until smooth. Stir into the pan, gradually. Bring it all to a boil, and cook while stirring for 1 minute. Drain the pasta and serve with chicken and Parmesan.